NEW DELHI: Billionaire investor and hedge fund manager
Ray Dalio
has said that India has the highest growth potential among the top 22 countries in the world and has compared Prime Minister
Narendra Modi
to former Chinese leader Deng Xiaoping, who unleashed a wave of economic reforms in the late 1970s which transformed the state of the Chinese economy.
"I think India is where China was in 1984. So, if you look at the complexion of per capita income, I think Modi is a Deng Xiaoping. So that you have a massive reform, development, creativity, all those elements. There are of course issues, risk issues," Dalio said at a panel discussion at the all-in-one summit on the topic — rise and fall of nations and the changing world order. He said there is the "religious intolerance issue having to do with a population of 240 million Muslims" but asserted that none of the issues would be able to stop India's progress. "India is very important. I don't think any of the issues is going to stop India," said Dalio, who is bullish on the country's growth prospects.
He said history has shown that countries that were neutral did the best or at least better than the winners in wars. "So, as we have the conflict between the US and China & its allies, Russia and so on, countries like India, that are in the middle, are going to be the beneficiaries of that," said Dalio.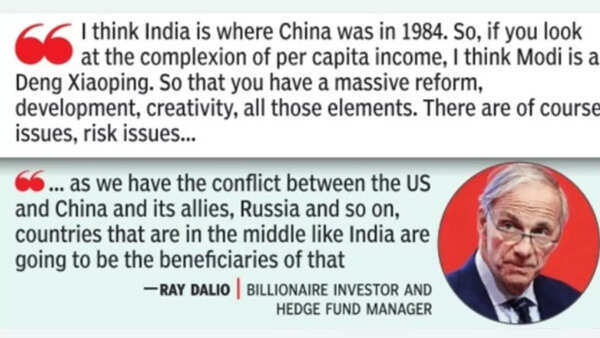 The Narendra Modi government has undertaken a raft of reforms since sweeping to power in 2014, which has led to stable growth in India — to-day, it is the fastest growing major economy in the world and has staged a robust recovery after the bruising impact of the Covid. It is also emerging as a destination for companies planning to shift their supply chain from China after the pandemic.
Several multilateral agencies such as the IMF see India as a bright spot against the backdrop of the global economic slowdown. Policymakers estimate the economy to grow by 6.5% in the current fiscal year as the global slowdown, inflationary pressures and weather related events have emerged as obstacles to faster expansion.